Why HELLO THERE!
Sorry it's been so long since my last blog. Cause I know you were worried. I know you were all just wondering what had happened. Where had I gone? "Did London eat Liam?" you asked. No. I am here. Just redonkulously busy. So let's get going on this thing, shall we?
So, I started school. I did! I really did. Here's the main hall, filled with a bunch of artistic creative types or whatever.
We were all told to fill that wall on the bottom right with images of things we found around the school that started with the first letter of our last name. A bit different than how some schools back home treat things.
Here's the PUB inside my school. Yes. You read that right. Open for drinks from 10:30 in the morning. Beautiful.
So my schedule here is quite different from anything I've experienced back home. In my course there are about 400 Foundation students, a large portion of those being Graphic Design pathway. Because of this we have been split into a bunch of different groups that consist of around 20 people, and we all have a tutor (basically a mentor). My group is called Canis, and I'm extremely glad I got this one as it truly seems to be the best fit for me and I've met some great people. Anyways, Monday the entire of Foundation students go to lectures which last about 4 hours total and can be anything from talking about our upcoming projects to learning photoshop tricks to being lectured on different artists or designers. Tuesdays and Wednesdays are studio days with just my group and my tutor where we work on our projects one on one with him or go out and do drawing assignments. And then Thursday and Fridays are "Self Directed Study" days which we basically use any way we want to. I can work at home, go to workshops on different areas within the school, do research etc. It's very independent and feels much more flexible than anything at home.
We were assigned a mini project on the first day as a group. We walked into the classroom and sitting on the fives desks were one brick, tape, scissors, paper and a copy card. The assignment was to basically somehow write the word "CANIS" on the wall outside using all five bricks in about 3 hours. SO, this was the result.
We basically ended up photocopying the bricks and creating a pattern and using that to spell out the letters. Came out pretty good, methinks.
A typical day in the studio.
So that's about it for school! I'll have another post about all the work I've been doing very soon. Now, for the home life!
Here it is, the infamous Bernard Myers House. My home for the next eight or so months.
And here's my room!
Please note the beautiful gold mannequin I captured for FREE. Amazing, yes? Also happened upon that awesome thing hanging in the middle there. Pictures above and below the bookshelves are from a sixties design calendar I picked up.
My "pimpin" bed as my flatmate calls it. Remember those post its at the foot of my bed, as I'll be coming back to those later.
And here is the kitchen/sitting area. Boring I know but some peeps wanna see what it looks like so here you go!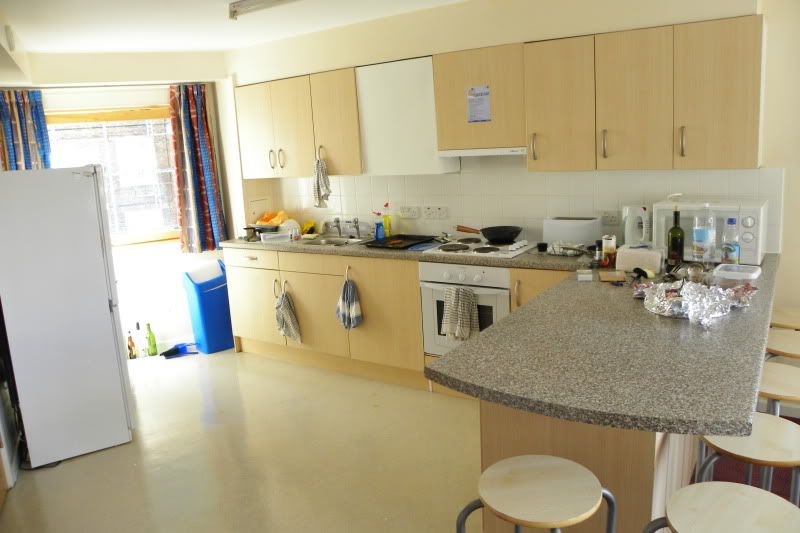 And yeah that's it! I'm really really happy with the way everything is turning out. I'm feeling extremely inspired, motivated, and pushed. I love where I live, I've made some amazing friends already and the area is actually really quiet so it's a good escape from the hustle and bustle.
And now for those post its.
Basically I've made it a little tradition for everyone who comes into my room to make a little post it for me to stick on my wall. And if you're reading this blog, most likely I miss you a lot and wish you were here with me. SO, you should send me a post it to put on this wall! You can put anything you want on it. A picture, a message, a dot. I don't care! But let's fill this wall. So here's my address, get crackin'!
Bernard Myers House
4-6 Havil Street
Room 120 Flat E
Camberwell, London
SE5 7RU
UK
Thanks for reading!!